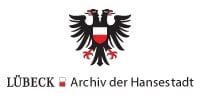 Archives of the Hanseatic City of Lübeck
Ancestry.com.
Lübeck, Germany, Houselists, 1284-1600
[database on-line]. Lehi, UT, USA: Ancestry.com Operations, Inc., 2016.Original data: Topographische Regesten, 1284-1600. Archiv der Hansestadt Lübeck, Lübeck, Deutschland.
About Lübeck, Germany, Houselists, 1284-1600
About this collection
This collection contains Houselists from Lübeck, Germany from 1284 to 1600. The Hanseatic City of Lübeck is an independent city situated on the Trave River near the Baltic Sea, about 40 miles from Hamburg in the state of Schleswig-Holstein. It was one of the most important cities of the Hanseatic League in the Middle Ages. Lübeck is known for its medieval landmark, the Holsten Gate and as a producer of marzipan. It was the implied setting of Thomas Mann's novel, "Buddenbrooks." Its well- preserved old town is a UNESCO World Heritage Site. Lübeck is known as "The City of Seven Towers" because of the Brick Gothic churches that dominate its skyline.
The medieval Oberstadtbücher (High Books) are the source of Lübeck houselists. They were produced by a prothonotary, a legal officer or clerk from the town council. These books contained obligatory records about real-estate transactions and fees, bills of sale, inheritances, mortgages and pensions and other information similar to present day land registries. Their name is supposed to be derived from the fact that they were once stored on the "higher" floors of the chancellery. The oldest of the Oberstadtbücher records are missing. This houselist collection begins with volume two with dates starting in 1284. Entries are organized by residential areas, or "quarters." The four residential quarters are: Jacobi-Quartier, Johannes- Quartier, Marien-Magdalenen-Quartier and Marien-Quartier. These administrative divisions in Lübeck's old town were each named after the respective patron saint of each quarter's local church.
Between 1842 and 1848, Hermann Schröder based these houselists or "Topographische Regesten" on the Oberstadtbücher. He also referred to them as "Schrödersche Regesten" (Schröder's Summaries). They chronical individual plots of land in downtown Lübeck over the years 1284-1600. Property owners may also be found in the Archiv der Hansestadt Lübeck Personenkartei or in Ancestry's Lübeck, Germany, Personal Index Cards.
What you can find in the records
The Houselists were initially written in Latin. Starting around 1450, they were written in Middle Low German. The lists record house numbers, not by street, but by residential quarter at the time they were recorded. As a result, street names do not appear in alphabetical order. The following details may be found:
Year in which the entry was recorded
Last Name, Given Names, occasionally Occupation, Marital Status, Relatives of Owner
Type of transaction or transfer of ownership
Property: Name, Location, Neighbors
More about using this collection
The handwritten forms sometimes comprise several pages. These are displayed one after the other. Multiple pages exist particularly in the case where a property changes hands several times. Archiv der Hansestadt Lübeck makes available the following highly detailed publication on Lübeck's family history resources:
Kruse, Meike: Wo finde ich was? Handbuch zur Familien-, Personen- und Hausforschung im Archiv der Hansestadt Lübeck. In: Kleine Hefte zur Stadtgeschichte, Heft 18, Lübeck 2005.