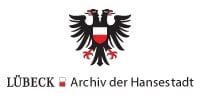 Archives of the Hanseatic City of Lübeck
Ancestry.com.
Lübeck, Germany, Fire Insurance Registration, 1796-1938
[database on-line]. Lehi, UT, USA: Ancestry.com Operations, Inc., 2016.Original data: Brandkassenregister, 1796-1938. Archiv der Hansestadt Lübeck, Lübeck, Deutschland.
About Lübeck, Germany, Fire Insurance Registration, 1796-1938
About this collection
This collection contains fire insurance documents from Lübeck, Germany from 1796 until March 31, 1938. The Hanseatic City of Lübeck is an independent city situated on the Trave River near the Baltic Sea, about 40 miles from Hamburg in the state of Schleswig-Holstein. It was one of the most important cities of the Hanseatic League in the Middle Ages. Lübeck is known for its medieval landmark, the Holsten Gate and as a producer of marzipan. It was the implied setting of Thomas Mann's novel, "Buddenbrooks." Its well-preserved old town is a UNESCO World Heritage Site. Lübeck is known as "The City of Seven Towers" because of the Brick Gothic churches that dominate its skyline.
The fire insurance association was founded in 1761. Beginning in 1768, it established and maintained directories of insured homes in Lübeck's old town residential quarters. This collection comprises listings of homes, starting in 1796, created by whichever fire insurance office was active at the time. Four residential areas, "quarters," are covered: Jacobi-Quartier, Johannes-Quartier, Marien-Magdalenen-Quartier and Marien-Quartier. These administrative divisions in Lübeck's old town were each named after the respective patron saint of each quarter's local church.
Fire insurance was part of an effort to modernize government and provide a form of social protection and public safety. Insurance for private residential and commercial buildings was voluntary. Policyholders had to be at least 21 years of age and, as owners, often lived on the premises.
These extensive records preserve the social and economic history of Lübeck City and are a valuable research tool for finding property owners and biographical information. Lübeck lost its status as an independent city as a result of the Greater Hamburg Act of 1937. Beginning in 1939 the functions of previous fire insurance offices, for example the Lübecker Brandkasse, were assumed by the State.
What you can find in the records
Starting in 1796, a form was created for each property. On it, all insurance policies are documented chronologically. Entries are arranged by Housing Register (Quartier), Name of Street (Straßenname) and House Number (Hausnummer). These handwritten fire insurance forms were bound into volumes called Housing Registers. The following details may be found:
Owner: Given Names, Last Name, occasionally Occupation, Marital Status and Maiden Name
Details about grounds and insured properties (House, Storage, Balcony, Stable, Levels, Firewall, etc.)
Amounts and payments for insurance premiums between 1796 and 1938
More about using this collection
The fire insurance offices created handwritten forms sometimes comprising several pages. These are displayed one after the other. Multiple pages exist particularly in the case where a property changes hands several times. Archiv der Hansestadt Lübeck makes available the following highly detailed publication on Lübeck's family history resources:
Kruse, Meike: Wo finde ich was? Handbuch zur Familien-, Personen- und Hausforschung im Archiv der Hansestadt Lübeck. In: Kleine Hefte zur Stadtgeschichte, Heft 18, Lübeck 2005.