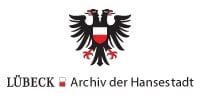 Archives of the Hanseatic City of Lübeck
Ancestry.com.
Lübeck, Germany, Genealogical Register, 1200-1910
[database on-line]. Provo, UT, USA: Ancestry.com Operations, Inc., 2010.Original data:
Genealogische Register ca. 13-19, Jahrhundert
. Lübeck, Germany: Archiv der Hansestadt Lübeck.
About Lübeck, Germany, Genealogical Register, 1200-1910
This register is compiled from lineages of families from Lübeck, Germany. It includes 12 different books penned by seven different authors and has information that stretches from the 13th Century up to 1910. The books have handwritten pedigree charts, Ahnentafel lists and other lineage formats. The charts are arranged alphabetically within each title and the charts include names and relationships. Information varies by book, but may include:
Dates
Places of birth
Marriage
Death
Residence
Occupation
The collection doesn't include lineages of all Lübeck families, but includes many of the more prominent families. The city of Lübeck is the largest German port on the Baltic Sea and was an important port and trade town from the 13th Century on.