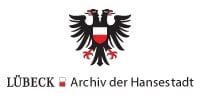 Archives of the Hanseatic City of Lübeck
Ancestry.com.
Lübeck, Germany, Census, 1857
[database on-line]. Provo, UT, USA: Ancestry.com Operations, Inc., 2010. This collection was indexed by
Ancestry World Archives Project
contributors.Original data: Archiv der Hansestadt Lübeck.
Statistisches Landesamt: Zähllisten der Volkszählung, 1857
. Statistisches Landesamt: Archiv der Hansestadt Lübeck, 1857.
About Lübeck, Germany, Census, 1857
This collection contains the 1857 census for the Free City of Lübeck. Census records are very rare for Germany as the country's nationwide censuses were to be conducted on a state-wide level and this was only required nationally after 1871. Additionally, all original census records under Eastern Germany were destroyed. This is the first time this particular collection has been digitized and made available online.
To achieve free city (also free imperial city) status, the Emperor had to publicly declare his direct rule over the city. In 1226 Frederick II, Holy Roman Emperor, awarded Lübeck this free city status. Due to its location, the city became the capital of the Hanseatic League, which was a trading monopoly comprised of cities and guilds along the northern coast of Europe from the 13th to 17th centuries. From 1817 to 1867 Lübeck became one of the 39 sovereign states in the German Confederation, created to serve as successor to the Holy Roman Empire of the German Nation.
Had your ancestor been a citizen in Lübeck under the German Confederation, they would have lived in a city with a semi-autonomous government and a prosperous port surrounded by bays, fjords, and cliff lines. Perhaps their home would have been structured of brick whose Gothic architectural tradition made Lübeck a world heritage site. The city is also known for its marzipan industry and Christmas market handicrafts in whose tradition your ancestor could have participated. Today Lübeck is one of the largest cities in the state of Schleswig-Holstein and the largest German port on the Baltic Sea.
Information in this index:
Given name li>
Surname li>
Street address li>
Head of household li>
Occupation/status
Marital status li>
Members of the household and their relationship to the head li>
Religion li>
Help preserve historical records for generations to come. Join the Ancestry World Archives Project, a collaborative effort involving thousands of people around the world keying digital records to make them free for everyone. Anyone can join, and you decide how much time you'll contribute - as little as 15 minutes helps. Learn more.