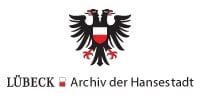 Archives of the Hanseatic City of Lübeck
Ancestry.com.
Lübeck, Germany, Census, 1851
[database on-line]. Provo, UT, USA: Ancestry.com Operations, Inc., 2010. This collection was indexed by
Ancestry World Archives Project
contributors.Original data:
Lübeck, Deutschland, Volkszählung, 1851
. Statistisches Landesamt: Zähllisten der Volkszählung, 1851.
Archiv der Hansestadt Lübeck. Lübeck, Deutschland.
About Lübeck, Germany, Census, 1851
About this collection
This collection contains the 1851 census for the Free City of Lübeck. The Hanseatic City of Lübeck is an independent city situated on the Trave River near the Baltic Sea, about 40 miles from Hamburg in the state of Schleswig-Holstein. It was one of the most important cities of the Hanseatic League in the Middle Ages. Lübeck is known for its medieval landmark, the Holsten Gate and as a producer of marzipan. It was the implied setting of Thomas Mann's novel, "Buddenbrooks." Its well-preserved old town is a UNESCO World Heritage Site. Lübeck is known as "The City of Seven Towers" because of the Brick Gothic churches that dominate its skyline.
During the time period of this collection Lübeck was a part of the German Confederation. The collection includes records from the city center, suburbs and rural communities that belonged to Lübeck. Census records are uncommon in Germany since censuses were not undertaken on a regular basis and did not have comprehensive coverage. The Lübeck censuses, which can all be found on Ancestry, are particularly valuable for documenting the genealogy and history of the populace.
What you can find in the records
On September 1, 1851, enumerators visited each dwelling and filled in the official census forms with handwritten details. In urban areas, the census information was recorded for each "Quartier" or neighborhood. In rural areas, it was organized by "Bezirk" or military district. The location can be found at the top of each form. The information to be gathered in the census can be seen in the printed column headings on each page. The details are ordered by house number with a row for each resident. Information in this index:
Street Name, House Number
Given Names, Last Name, Age and Birthplace of each resident
Marital Status, Trade, Occupation, Ownership
Denomination
More about using this collection
Each image displays two pages of the census form at a time. Archiv der Hansestadt Lübeck makes available the following highly detailed publication on Lübeck's family history resources:
Kruse, Meike: Wo finde ich was? Handbuch zur Familien-, Personen- und Hausforschung im Archiv der Hansestadt Lübeck. In: Kleine Hefte zur Stadtgeschichte, Heft 18, Lübeck 2005.