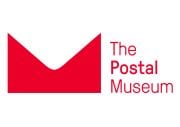 The Postal Museum
Ancestry.com.
UK, Postal Service Appointment Books, 1737-1969
[database on-line]. Provo, UT, USA: Ancestry.com Operations, Inc., 2010. This collection was indexed by
Ancestry World Archives Project
contributors.Original data:
Post Office: Staff nomination and appointment, 1831-1969. Microfilm, POST 58, 80 rolls. The Postal Museum. London, England.
About UK, Postal Service Appointment Books, 1737-1969
These Postal Museum appointment books are indexes to the Postmaster General's minute books. They show the point when a person began working for the Post Office or started at a new position within the Post Office. The books were kept from 1831 until 1969, when they stopped being kept because of legislation and human resource procedures.
Some records contain the job the worker was appointed to and the The Postal Museum's website has the abbreviations in their Family History Guide. The index contains:
Name
Date of appointment
Location
Help preserve historical records for generations to come. Join the Ancestry World Archives Project, a collaborative effort involving thousands of people around the world keying digital records to make them free for everyone. Anyone can join, and you decide how much time you'll contribute - as little as 15 minutes helps. Learn more.