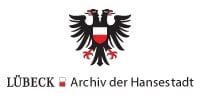 Archives of the Hanseatic City of Lübeck
Ancestry.com.
Lübeck, Germany, Census, 1845
[database on-line]. Provo, UT, USA: Ancestry.com Operations, Inc., 2010. This collection was indexed by
Ancestry World Archives Project
contributors.Original data:
Statistisches Landesamt: Zähllisten der Volkszählung, 1845
. Archiv der Hansestadt Lübeck. Lübeck, Germany.
About Lübeck, Germany, Census, 1845
Historical Background:
The Free City of Lübeck is located in northern Germany on the Baltic Sea. It is one of the largest cities in the state of Schleswig-Holstein and is the largest German port on the Baltic. Due to its location, the city was the capital of the Hanseatic League (a trading monopoly comprised of cities and guilds along the northern coast of Europe that existed from the 13th to 17th centuries) for several hundred years.
About the Records:
This collection contains the 1845 census for the city of Lübeck and its suburbs. Records can be searched by:
Name
Estimated birth year
Birthplace
But researchers will want to link to the images from the census, which include the house number; name, age, and relationship for all members of the household; occupation; birthplace and parish of the birthplace; and how long occupants have lived at their current residence. They also contain enumeration information.
Help preserve historical records for generations to come. Join the Ancestry World Archives Project, a collaborative effort involving thousands of people around the world keying digital records to make them free for everyone. Anyone can join, and you decide how much time you'll contribute - as little as 15 minutes helps. Learn more.