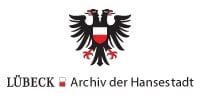 Archives of the Hanseatic City of Lübeck
Ancestry.com.
Lübeck, Germany, Deaths, 1811-1875
[database on-line]. Provo, UT, USA: Ancestry.com Operations Inc, 2010.Original data: Zivilstandsregister 3.5-3, Stadt- und Landamt. Archiv der Hansestadt Lübeck, Lübeck, Germany. Collections:
-Registre de l'etat civil pour la Commune de Lubeck, 17.Okt.-31.Dez. 1811
-Registre de l'etat civil pour la Mairie de Lubeck, pour l'an 1812-1813. Deces
-Proklamationen, 1813-1871. Microfilm nos. 6069-6079, 6082-6084, 6087-6101.
About Lübeck, Germany, Deaths, 1811-1875
The Free City of Lübeck is located in northern Germany on the Baltic Sea. It is one of the largest cities in the state of Schleswig-Holstein and is the largest German port on the Baltic. Due to its location, the city was the capital of the Hanseatic League (a trading monopoly comprised of cities and guilds along the northern coast of Europe that existed from the 13th to 17th centuries) for several hundred years.
Historical Background:
Civil registration refers to the vital records kept by the government. Civil registration began at different times for different areas of Germany. In many areas it was begun around the turn of the nineteenth century as Napoleon's influence extended beyond France. In Lübeck civil registration was established about 1811. In 1876 when Germany became a unified nation civil registration began being kept throughout the whole country.
About the Database:
This database contains civil registration death records from the city of Lübeck for the years 1811-1875. This covers from about the time civil registration began being kept in Lübeck up to the time of Germany's unification. Deaths were usually registered within a few days of the death and in the locality in which the death took place.
In the earlier years records generally consisted of handwritten paragraphs. In the later years, preprinted forms with spaces allotted for writing in the appropriate information were used.
Information listed on death records may include:
Name of deceased
Death date
Death place
Age at time of death
Residence
Occupation
Marital status
Informant's name